The following audio and texts are the Professions of Faith of our confirmation students from the Palm Sunday Sunday Worship Service. We are very happy to be able to let you listen and read the wonderful professions of faith that they have presented this year.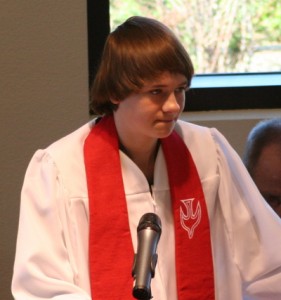 Austin Mitchell – Listen
I believe in what I believe because I decided to start going to church with my grandma. So I started to go every week and I started to like it. What I believe about God is that He is our Father in heaven Who will take everyone who believes in Him to heaven. Jesus saved me because He sacrificed Himself to forgive our sins. What the Holy Spirit does for me is that He helps when I need it.
Worship is about learning more about Jesus and more of the Bible and what happened in the Bible ages. Where Jesus was born and where He was crucified and what it was like when He was growing up.
I wish to be a communicant member because I would like to receive the body and the blood of the Lord Jesus Christ. What I would to do to support the congregation's ministry as a member is that I would help usher, help with communion, and help clean up the church when they need help.
I would live my life as a Christian in the mission world today by helping people out with the things they need. I would help homeless people, work cut peoples' lawns, and walk their dogs. I would also help my mom and grandma around the house.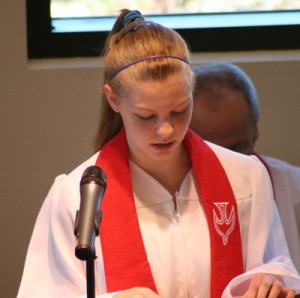 Liz Tims – Listen
I am so glad that I have God in my life. He has blessed me with many things. He has given me a family that loves me. I could not be more thankful for my family. I always know that I can go to God and ask Him for help. When I have a test coming up I can ask Him to help me understand and remember the material on it.  When I'm sick I can ask Him to help me to get better. I can also thank Him, just because He is there for me. He is always there for everyone. He will always hear our prayers.
I don't really remember when I started to believe in God. I think it was when I started going to my school. I started to go to Bethlehem when I was 3 years old. And that is the only school I have gone to. Last summer I went to a camp in Redding, California and the speaker that was there was amazing. He helped so many people who didn't really believe in God, believe in Him.  I am thankful that I have had the opportunity to experience the school and the camp because of what I learned about God.
The verse that I picked for my favorite verse is 1 Corinthians 9:25. "Everyone who competes in the games goes into strict training. They do it to get a crown that will not last, but we do it to get a crown that will last forever." I like this verse because when I play a sport I will always remember this verse.
When I get older I will hope to go on a missionary trip with my friends. I have wanted to do that for a long time now.  When my friend's mom went to Cambodia with her church on a missionary trip, she told me what she did there and I realized that I wanted to do that, because it seemed really fun to travel around the world with my friends and share the Word of God. My principal's daughter is in Hungary teaching kids about the word of God also. I think it is really amazing that people do that.
When I get confirmed I will keep going to church. I will pray for the church and hope that it will grow and everyone will grow in Gods faith. I will share my love of God and our church with my friends and family.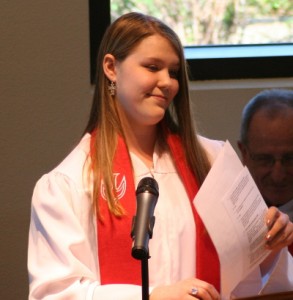 Alexandra Zoellner – Listen
My journey of faith has been a long journey. It's even still continuing. The older I get, the more I need my faith in Christ. I have good days, but I also have bad days where I need my faith the most. I have those days where I feel like I'm alone with no one by my side, but then I remember, God is always with me. He calls me his dear child. He promises to always be with me, even during the darkest times. He always provides for me what I need. When I feel gloomy, one of the first verses that I think of is Isiah 40:31, "but they who wait for the Lord shall renew their strength; they shall mount up with wings like eagles; they shall run and not be weary; they shall walk and not faint." That verse is special to me. I listen to it a lot. That verse has helped me to put my faith in God.
I believe that God sent his only son to die for me because his love for me is so great. I'm a sinner, but he forgives my sins. I know that I don't deserve His grace, but he gives it to me anyways. His love for me, and everyone, is the best love there is. Words cannot describe how much he loves me. God saved me, and all believers, by sending Jesus to die on the cross to save us from our sins. God was victorious when Jesus rose again on the third day. Because of the victory, I am able to worship God as I please and be forgiven from my sins.
The Holy Spirit works in me daily. By going to a Christian school, the Holy Spirit works in me through the gospel. The Holy Spirit has urged me to go to church more. I used to be grumpy about having to wake up on Sundays and go to church, but since this past year, I've been waking up on Sundays happy. I repent more often than I used to. I pray more. The Holy Spirit has worked in me a lot lately, and I'm glad about it.
Worship is all about thanking and praising God for all of the blessings that he has granted us with. God is the one who gives us life every morning. He's the one who provides for us every day. He gives us clothing, shoes, home, and all of the basic stuff that most of us barely think about. He gives us everything! The sad part is, we don't thank Him enough times as we should. We're supposed to thank him every day. Worship is our time to thank him for all that we have.
I wish to participate in Holy Communion so that I can be reminded every week that God sent his son to save all believers. I need to be reminded of how much God loves me. Being confirmed is my renewal of baptism. Confirmation is my reminder that I was adopted as God's child. As a strong believer in Christ, I promise to help uplift my fellow believers in their faith and love for God and worship. My mission is to spread the word of God to everyone who needs help. Nothing helps more than knowing that you are loved by God and that you are saved.